Alliance with IndianOil accelerates growth opportunities
As a pioneer of the LNG market in India, ExxonMobil has helped the country meet fast-growing needs for cleaner-burning natural gas to fuel economic growth. We have delivered LNG to India for nearly two decades and remain one of its key suppliers.
In October, ExxonMobil India LNG Limited signed a Memorandum of Understanding with Indian Oil Corporation Ltd. ("Indian Oil") that builds on a long history of LNG cooperation between the two companies. IndianOil is India's largest state-owned downstream petroleum company and a leading marketer of natural gas sources in India.
The companies will explore opportunities for moving cost-effective natural gas to parts of the country not yet reached by gas pipeline networks. "We see great potential here and are delighted to join forces with IndianOil to unlock lasting value for India," says Karthik Dharmapuri, Vice President, ExxonMobil Gas (India) Private Limited.
New ExxonMobil advertisements on TV screens, online and at the Delhi airport highlight how the natural gas we provide brings cleaner air to India compared with other fuels being used in the country. The campaign runs in English and Hindi and links to our popular content hub, Energy Factor India.
"We are building strong alliances with leading Indian firms to position India for a new era of economic growth, improved living standards and reduced emissions. This is the time to bring together the best of Indian and international industry to put natural gas to work for India," says Bill Davis, CEO, ExxonMobil Gas (India) Private Limited.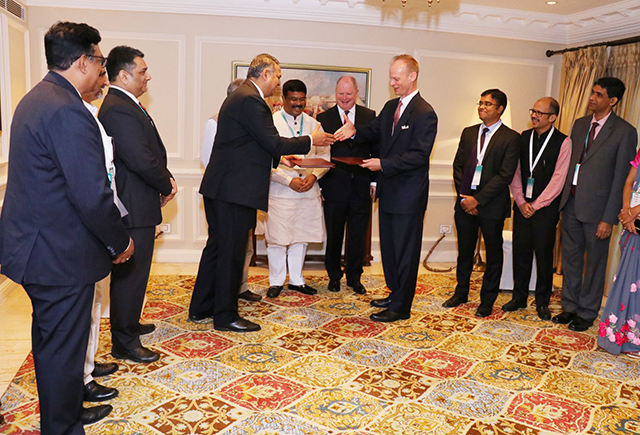 In New Delhi, IndianOil's Director (Finance) Sandeep Gupta, IndianOil's Chief General Manager (Gas Marketing) D. Nanda, ExxonMobil LNG Vice President Peter Clarke and ExxonMobil Gas (India) Private Limited CEO Bill Davis conclude an LNG collaboration agreement with the support of India's Petroleum and Natural Gas Minister Dharmendra Pradhan.