ExxonMobil is proud to announce its sponsorship of LNG TV's new series focusing on inclusion and diversity across the industry.
The series builds upon ExxonMobil's Power Play program and features in depth interviews with some of the remarkable women and men who make up the Power Play network and who are championing progress in this area.
Power Play
This heart-warming LNG TV special gives you a unique look at this years' Power Play Awards winners and recognizes those who made it all happen. A celebration of brilliant people and another powerful reminder of the strength, success and excellence that comes with diversity and inclusion and the Power Play movement.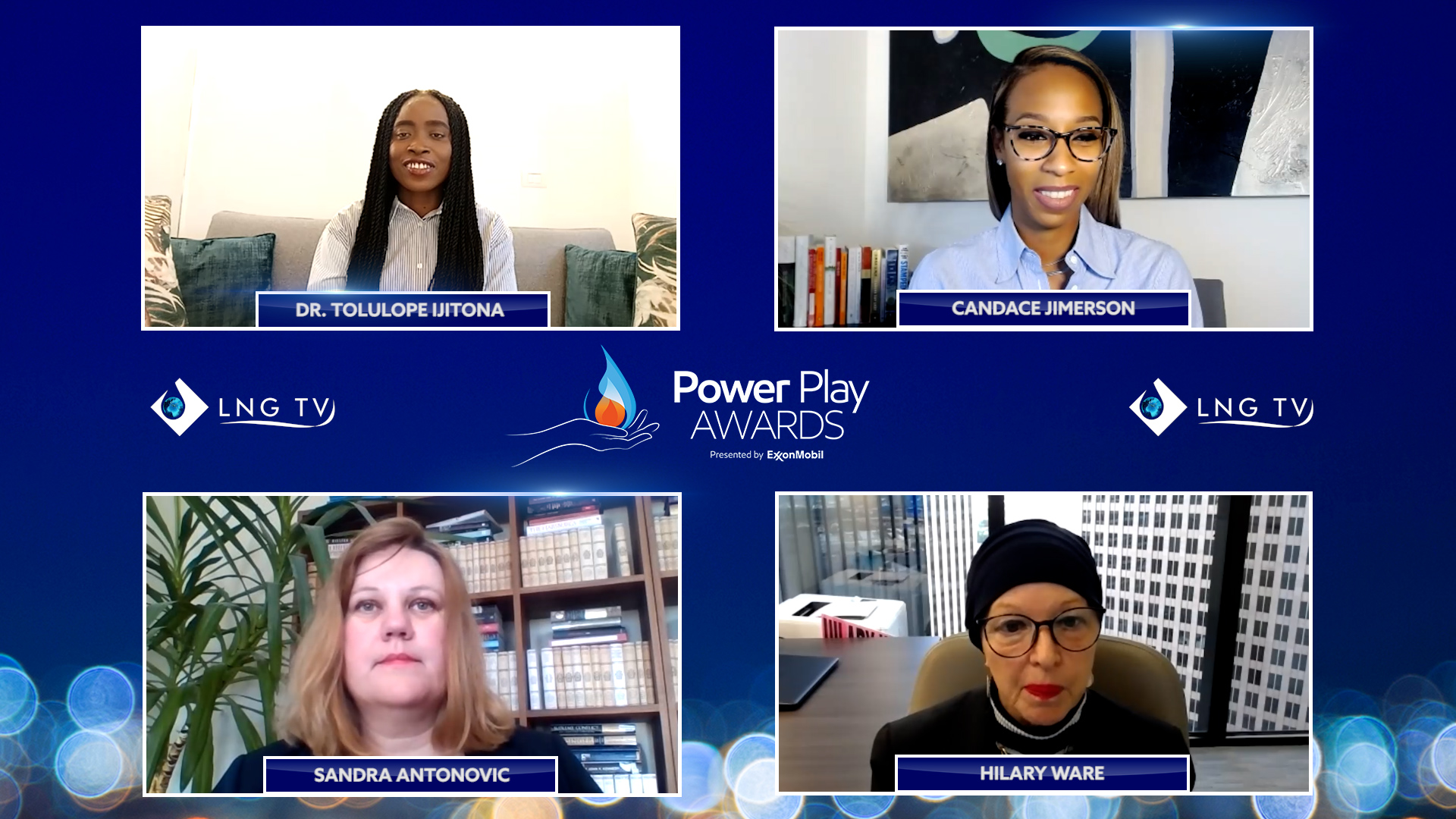 Dr. Mona Setoodeh
Dr. Mona Setoodeh, President of CH-IV International, discusses what it takes to support a successful LNG venture end-to-end and why it's crucial to build a diverse team, with complementary capabilities, a variety of opinions, and the ability to adapt quickly. She also shares her impassioned opinion on the need to address and improve the lack of engineering and construction roles for women in the Oil and Gas industry and encourage an inclusive workforce.
Candace Jimerson
Who better to triumph Women in LNG than Power Play finalist Candace Jimerson? With over 11 years of service at Golden Pass, Candace shares insights into the development of this ambitious LNG export project, plus learn how her personal journey and experiences have shaped her values and motivated her to champion diversity and equality in the LNG space.
Martin Houston
In this captivating episode, Martin shares some of the secrets behind his past successes and his optimistic outlook for the Driftwood LNG project. Discover why he is passionate about championing diversity and gender neutrality in the workplace and how believes Power Play is fantastic forum to help this journey of change and empower LNG professionals more broadly.
Tze San Koh
In episode four, Tze San Koh, President of Gas China Marketing at ExxonMobil, discusses the rising demand for natural gas in China as energy consumption rapidly increases and the need for lower-polluting fuel alternatives mounts. With a clear passion and energy for her role, Tze San reflects on the challenges of working across continents and how embracing technology and adapting to new working patterns has helped her stay connected with her culturally diverse team.
Tracy Lothian & Sarah Howell
In this very special edition of Women in LNG, Tracy Lothian and Sarah Howell give us an insight into the origins of Power Play. The duo shares the incredible story that started in Perth in 2016, the importance of celebrating and recognizing remarkable individuals, becoming champions of inclusion in industry, and what more can be done to address inequality.
Amy Chen Davis
The second episode features Amy Chen Davis, VP, Lake Charles LNG with Energy Transfer. Amy shines a light on the project, her passion for deal-making and embracing diversity in the industry. She also shares how she has successfully combined her passions for deal-making and relationship building in her already accomplished career in LNG marketing.
Julie Mayo
The first episode features one of the very first award winners, Julie Mayo, who was the recipient of the Vanguard award in 2019. Julie has been a keen supporter of the Power Play and is an inclusion and diversity champion. In this first episode Julie talks about her career path and how diversity is a critical part of business strategy.