The APEC CEO DIALOGUES 2020, hosted by Malaysia on 19-20 November 2020, featured a series of high-level speeches and engagements with leaders from the Asia-Pacific Economic Cooperation (APEC) and CEOs on priorities in the aftermath of the pandemic.
Tze San Koh, President, China Gas Marketing, ExxonMobil LNG Market Development Inc. spoke on a spotlight session covering the topic of 'Empowering women for economic recovery.' The panel focused on ways to enhance the private sector's engagement in APEC's gender initiatives and how to bring private sector expertise into policy discussions.
After the opening remarks, each participant was asked to share thoughts and best practices on how to manage the impact of COVID-19 on women in the work force.
Koh spoke about how the pandemic had impacted her personally and the support she received from ExxonMobil as well as how ExxonMobil's LNG Power Play has played a vital role in keeping women in the industry connected during these challenging times.
"The pandemic impacted me very significantly. On January 23, my husband and daughter flew from the U.S. to meet me in Singapore for Chinese New Year while I flew from China. It was the first time we were celebrating there since we left our home country in 2008. Our son was in college in Cleveland and could not join us in Singapore. Unfortunately, on January 31, we received a call from ICU that he had a very bad accident. Thanks to ExxonMobil's workplace flexibility program, I was able to juggle my professional commitments while caring for my son when he needed me the most. I was able to work in the U.S. whilst supporting our operations in China for almost six months. I managed to do this effectively due to ExxonMobil's workplace flexibility program as well as with support from my management and colleagues in China, US and Singapore.
During COVID 19, it has been very important for working women to be support each other. And ExxonMobil LNG's Power Play has provided a forum for us to come together via the Zoom platform to network as well as to discuss the issues we are facing. ExxonMobil and the Power Play champions have been making sure that inclusion and diversity stays top of mind through a range of webinars, virtual networking events and the signature LNG Power Play Awards program.
When the going gets tough, the tough get going. Let's continue to encourage each other and to stay strong together to make a positive impact."
To watch this panel on demand click here.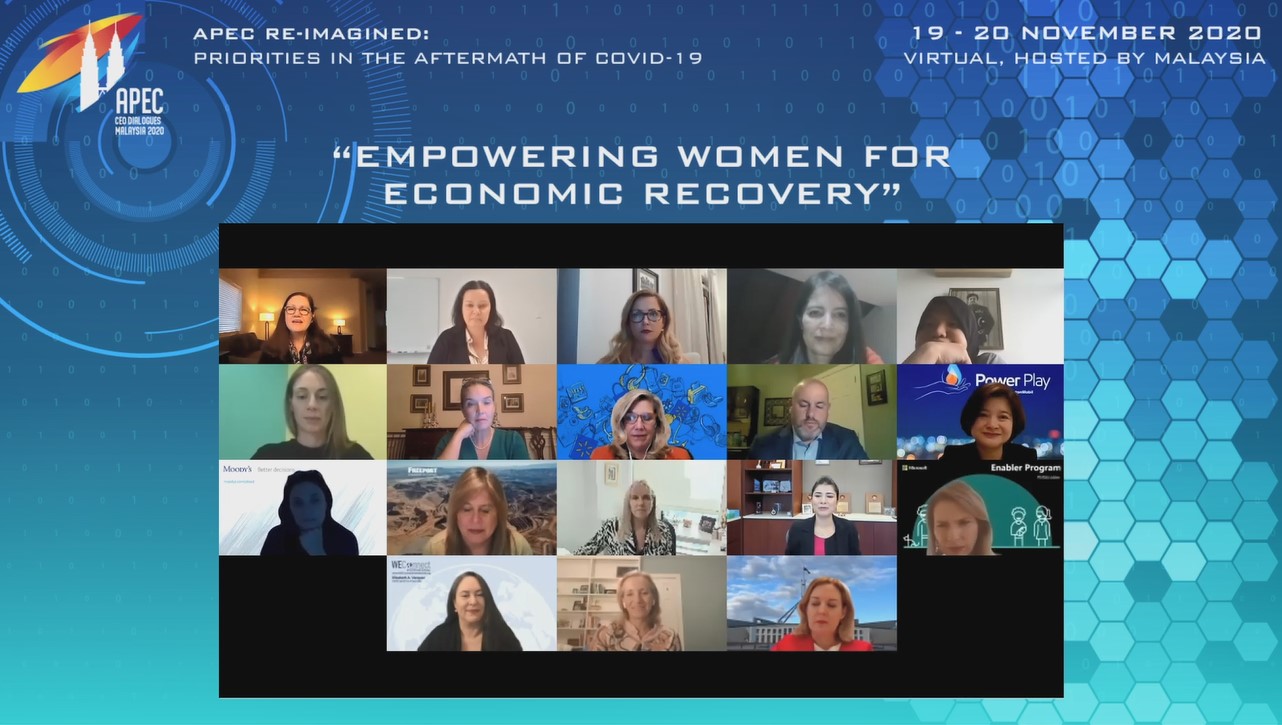 Opening remarks for the session were delivered by Ambassador Kelley Currie, U.S. State Department Global Ambassador for Women Issues, and Ms. Renee Graham, Chief Executive of New Zealand's Ministry of Women. Welcome remarks were be given by Kawal Preet, President of FedEx Express Asia, Middle East and Africa.
Koh was joined on the round table discussion featuring representatives from Asialink, Deloitte Asia Pacific, ExxonMobil, FedEx, FedEx Express, Freeport, LVK Group of Companies, Merck & Co,. Inc, Microsoft, Montoux, Moody's, National Center for APEC, New Zealand Ministry of Women, Sociedad Minera Cerro Verde, Toronto Region Board of Trade, US Department of State, Walmart and WEConnect International.
The ExxonMobil Power Play has been nominated for the 2020 Petroleum Economist award short list for contribution of the year to industry diversity. Please show your support by voting for ExxonMobil in this category using this link.