Visit marks another chapter in growth of Pakistan's LNG sector
A group of government and industry officials from Pakistan visited the ExxonMobil Houston Campus to strengthen our partnership and collaborate on ways to further the country's growing LNG sector. The visit marked the most recent chapter in our new joint effort to help Pakistan become an energy and economic leader in South Asia.
After a 27-year hiatus, ExxonMobil re-entered Pakistan in 2018, establishing an office in Islamabad. Pakistani government officials and ExxonMobil leaders attended the ceremonial opening event, amplifying the company's presence and interest in doing business in-country.
With more than 200 million people, Pakistan has the potential to become a regional economic leader. "We see Pakistan as an important energy market as it continues its growth trajectory," says President, ExxonMobil LNG Market Development Inc. Irtiza Sayyed. "Support for ExxonMobil's return to the country from the government of Pakistan and the business community has been very strong, and we look forward to building even stronger relationships as we progress our business ventures."
ExxonMobil's LNG marketers are exploring ways to help Pakistan advance its vital energy sector. Their efforts include engagement with relevant stakeholders such as the government of Pakistan, industry and customer groups to build relationships and progress business initiatives.
"The power of the ExxonMobil brand goes everywhere with us, signaling our commitment to safety, environmental responsibility, technology leadership and conducting our business with integrity," says LNG Marketing Advisor Steve Morrell. "We are excited about the potential of developing power generation capabilities in Pakistan."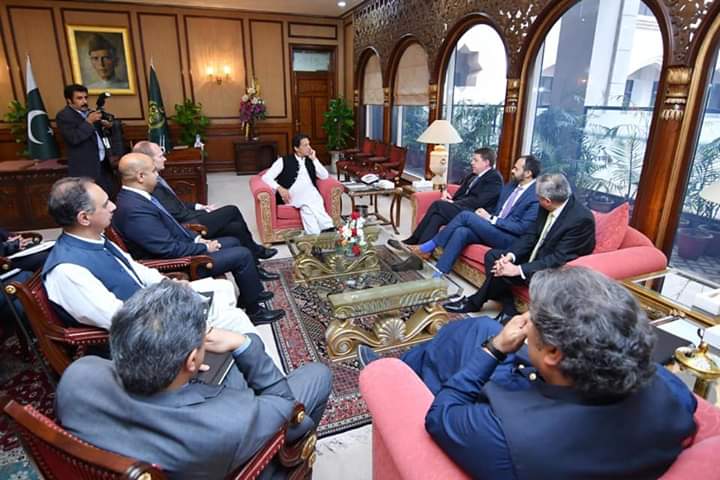 A delegation from ExxonMobil, led by Alex Volkov, Vice President & Head of Global LNG Marketing,
meeting with Prime Minister Imran Khan in Islamabad Pakistan.