The 2023 Power Play Awards is thankful for the expertise and time of an esteemed panel of judges to score the nominations. The international experts from across the LNG value chain have demonstrated their support for inclusion and diversity throughout the energy sector. This year's judges include:
Dena E. Wiggins
President and CEO, Natural Gas Supply Association (NGSA), United States of America
Dena Wiggins leads the NGSA's efforts to encourage the supply and use of natural gas. She promotes the benefits of competitive markets to ensure reliable and efficient supply, transportation and delivery of natural gas.
She holds a Bachelor of Arts degree from the University of Richmond and a Juris Doctor from Georgetown University Law Center. Ms. Wiggins has served as a judge for the Power Play Awards since its debut in 2019.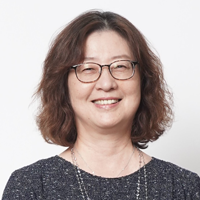 Jane Liao
Vice President, CPC Corporation, Taiwan
Jane Liao is leading LNG Purchase Division of Natural Gas Business, Corporate Planning Division, Joint Venture Division, Accounting Division, Finance Division, Green Technology Research Institute, Refining and Manufacturing Research Institute, Lubricant Business Division, and Low-Carbon Business Development Team.
She started her career as a Chemist at Exploration & Development Research Institute of CPC. She has led CPC's LNG business since 1997 and became the Deputy CEO of Natural Gas Business in 2015 and the CEO of Natural Gas Business in 2016.
A trained Chemical Engineer, Jane Liao obtained a Master Degree in Chemistry from National Tsing-Hua University, Taiwan. In 2013, she further obtained a Master Degree of Laws (LLM) in International Dispute Resolution and Management from the CEPMLP (Center for Energy, Petroleum and Mineral Law and Policy) of University of Dundee, Scotland. And in October 2016, Jane Liao completed the Advanced Management Program (AMP) from Harvard Business School.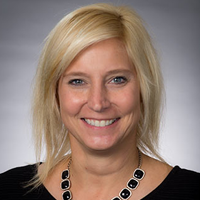 Jillian Evanko
President and Chief Executive Officer, Chart Industries Inc.
Jillian (Jill) Evanko has served as President and CEO at Chart since 2018 after joining as CFO in 2017. Prior to joining the company, Ms. Evanko served in leadership and financial positions at Truck-Lite Co., Dover Corporation, Arthur Andersen, Honeywell Corporation and Sony Corporation.
In 2020 she received the Power Play Rainmaker Award, the S&P Global Platts Energy Award for Chief Trailblazer and World LNG Executive of the Year. She was named a 2022 and 2023 Hydrogen Economist Women in Hydrogen 50 (Top 10 for Projects and Partnerships), Institutional Investor All-America Executive Team 2022 #3 Best Mid-Cap CEO Winner, Hart Energy's 25 Influential Women in Energy (2021) and a 2023 EY Entrepreneur of the Year for the Southeast Region.
Ms. Evanko received her BSBA from La Salle University and her MBA from the University of Notre Dame.
Li Yalan
President, International Gas Union (IGU)
Li Yalan is former Chairperson of the Board of Beijing Gas Group. She is the IGU President 2022-2025, and the vice Chairperson of China Gas Association. Ms. Li is listed as 40 Energy Leaders in the 40 Years Reform and Opening Up, as a representative of the Chinese energy industry.
She is a renowned expert in the Chinese gas industry, and contributed to the rapid development of the gas industry development in Beijing, with annual gas consumption volume increasing from 180 bcm to 18 bcm over the past three decades.
She holds a bachelor's degree of Engineering from Beijing University of Civil Engineering and Architecture, majored in Thermal Engineering, and holds an MBA degree from Renmin University of China. She studied in Gas De France for one year in 1990.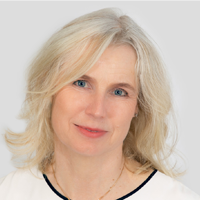 Marianne Eide
Chief Operating Office, BlueNord
Marianne holds the position as Chief Operating Officer of BlueNord, an independent E&P company listed on the Oslo Stock Exchange and the second largest producer in Denmark.
Marianne has more than 30 years of experience from the North Sea oil and gas industry and has held senior management, commercial and technical roles with Shell and BG Group based in Aberdeen in the UK and with Gaz de France, Conoco and Equinor based in Stavanger in Norway. Her areas of expertise include joint venture asset management, offshore field development, production optimization and subsurface management and she enjoys working with multicultural teams.
She holds a MSc in Petroleum Engineering from the Norwegian Institute of Technology in Trondheim and started her career as a reservoir engineer with Equinor.
Marianne also serves on the board of the trade organization Dansk Offshore.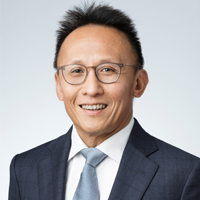 Alan Heng
Group Chief Executive Officer, Pavilion Energy Pte Ltd
Alan Heng is the Group Chief Executive Officer and a member of the Management Committee at Pavilion Energy.
Alan joined Pavilion Energy since its inception in 2013. He was formerly the Managing Director (Asia) and Head of the Energy Sales and Market Development Division where he was responsible for expanding Pavilion Energy's business and operations in Asia, including the downstream gas business in Singapore.
Alan is also the Chief Executive Officer of Gas Supply Pte Ltd (GSPL), a position he has held since April 2011. A seasoned professional with decades of experience in the energy industry, Alan has taken on various leadership roles in supply, planning, chemicals, operations and marketing, spanning across Taiwan, New Zealand and the United States.
A Singaporean, Alan holds a Bachelor of Mechanical Engineering (Hons) and a Master of Business Administration from the National University of Singapore.
Sarah Bairstow
President and Chief Commercial Officer, Mexico Pacific
Sarah Bairstow has 20 years of international LNG and energy leadership experience, including end-to-end commercial LNG project development. Mrs. Bairstow has successfully marketed and delivered LNG projects from concept through to operations and executed over US$140 billion of gas and LNG transactions.
As President and Chief Commercial Officer of Mexico Pacific, Mrs. Bairstow is responsible for corporate and commercial execution and delivery of the 14.1 mtpa Saguaro Energía LNG export project located on the west coast of Mexico, and future company growth projects.
Prior to joining Mexico Pacific in 2019, Mrs. Bairstow was Head of Commercial LNG and Strategic Projects for the $18.5bn Gladstone LNG Project on behalf of project partners Santos, KOGAS, PETRONAS and Total.
In her earlier career Mrs. Bairstow executed energy transactions as a projects lawyer with Ashurst advising on LNG and energy project development and M&A.
Taciana Peao Lopes
CEO MES-MozUP
Executive Director MWE
Taciana Peão Lopes is a well-rounded expert in the energy sector, with robust knowledge in its legal, institutional, and transitional aspects, underpinned by a law degree and a masters in energy and oil and gas. Honored with the 2022 Power Play Pioneer Award, she is acknowledged as an innovator and LNG champion. Taciana has added a dynamic entrepreneurial perspective to the energy value chain and promoted gender inclusivity across the energy industry.
Her pioneering role in Mozambique's first LNG export project, a globally significant initiative, exemplifies her capability. Her expertise in local content and passion for knowledge transfer have led to her appointment as CEO of MES, the organization behind MozUP. This center, dedicated to fostering transformative local content, works with Mozambican workers and SMEs to harness the oil and gas value chain's potential, preparing them as catalysts for other economic sectors, all within the Energy Transition's context.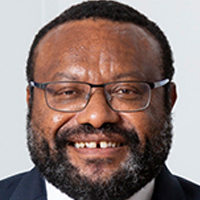 Augustine Mano
Managing Director & CEO, Mineral Resources Development Company (MRDC), Papua New Guinea
Mr. Augustine Sanga Mano is the Managing Director & CEO of Mineral Resources Development Company (MRDC). He serves on the MRDC Board of Directors and has been a member of P'nyang State Negotiating Team since 2019. He led the development of gas-supplied Dirio power station (45MW IPP) and is of the strongest supporters of EMPNG, PNGLNG Project and P'nyang development. He is also a member of boards for various landowner companies in the mining & petroleum sector and a number of prominent PNG companies in the aviation, banking and mining sector.
Originally from the Southern Highlands Province of Papua New Guinea, Augustine received a Bachelor of Economics and Arts (Environmental Science) from the University of Papua New Guinea and a Master of Science in Petroleum Economics from Dundee University.